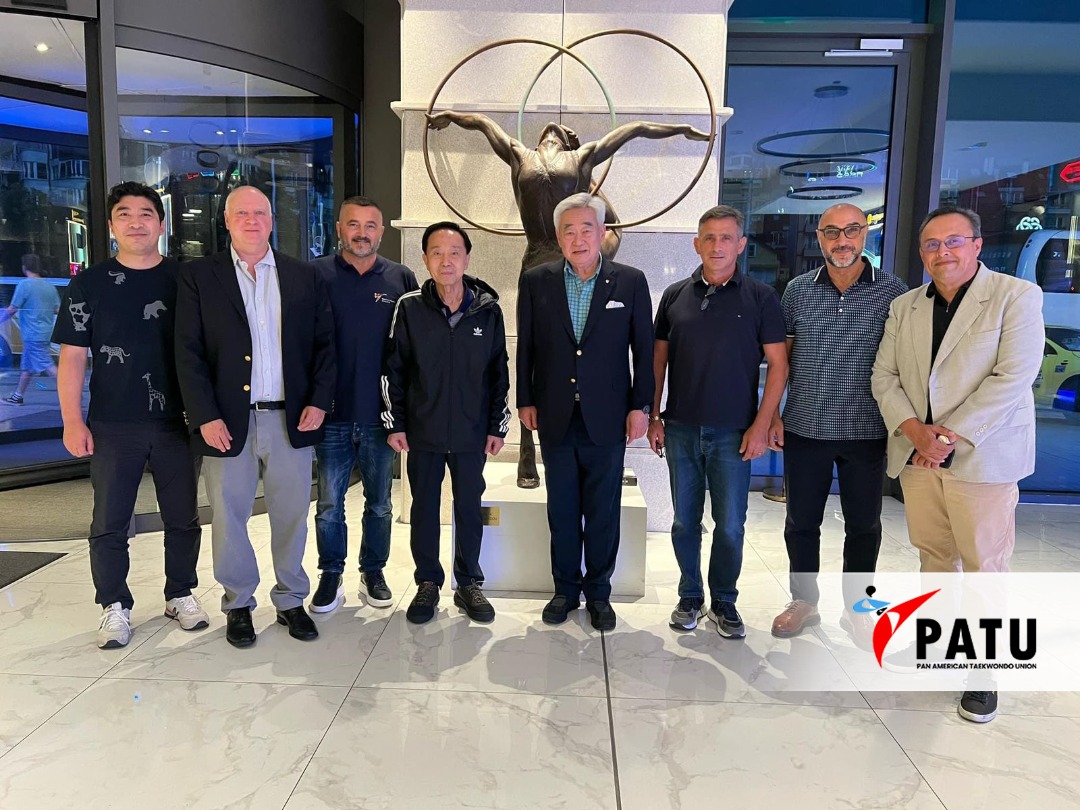 by PATU
Sofia – Bulgaria, July 2022 – On the occasion of the World Cadet Taekwondo Championships, the highest authorities of Taekwondo worldwide had a meeting to define important topics for the development of our martial art at a global level.
The president of the World Taekwondo, Dr. Choue, held a dynamic and purposeful meeting with the president of our continental union Juan Manuel Lopez, its Secretary General, Mario Mandel, and the leaders of Europe Sakis Pragalos -president- and Antonio Barbarino -Secretary General-, the president of the continental union of Oceania John Kotsifas, on behalf of the Asian continent the president Lee Kyu-Seok, who were accompanied by the General Director of WT Jeonkang Seo.
During this meeting, key agreements were established to proceed with the Taekwondo Humanitarian Foundation (THF), in which the president of PATU Juan Manuel Lopez announced the progress made in the region in relation to cities that will start the project.
Mr. Lopez set important guidelines and made progress on what will be the gala dinner that PATU will organize on the occasion of the World Taekwondo Championships to be held in Guadalajara, Mexico in November.
"A very productive approach, the one that the presidents of the continentals have had with our president, Dr. Choue, and the General Director Seo, to make known progress and set commitments in which we are working hard to develop Taekwondo in an integral way, at all levels and including the most disadvantaged in every way through the THF, this type of meetings, allows us to continue on the path that the principles and values of World Taekwondo establishes us, we will continue working during the coming days, to benefit all practitioners of our beloved sport and martial art" said, PATU President Juan Manuel Lopez.