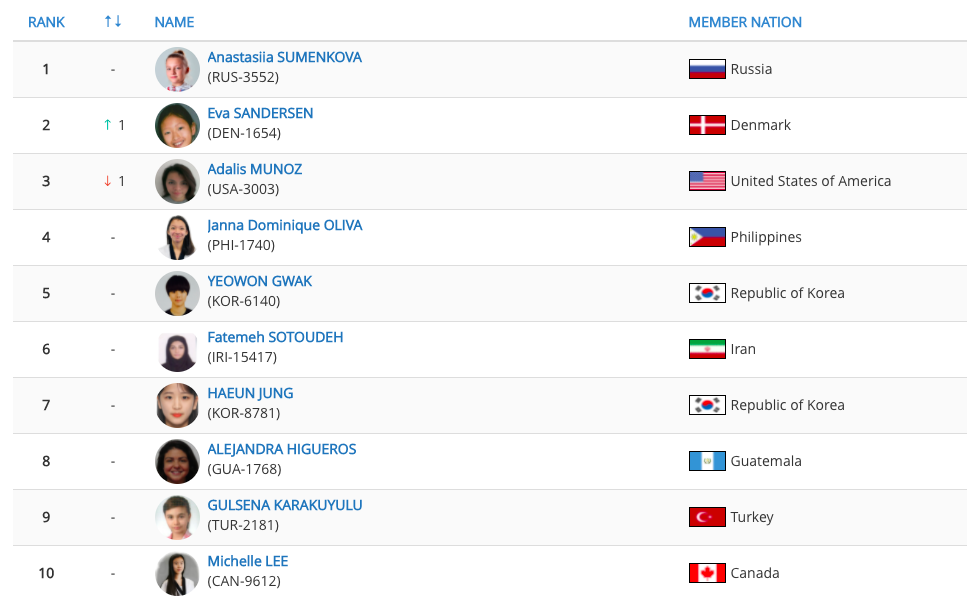 by PATU
A few hours after the definitive announce that the World Poomsae Championships Goyang, Korea 2022, will take place, the World Taekwondo officially released the ranking of the freestyle divisions, and our region is part of the top 10.
The wait was longer than usual, but this weekend the World Taekwondo released publicly and actively the ranking for the divisions of the freestyle over 17 years female and male.
This ranking will grant several benefits to the athletes positioned in it, such as the possibility of being seeded in important events and the possible invitation to Grand Prix events when the Poomsae is included.
Top 10 of the current listings
Female over 17 years old Freestyle
1. Anastasiia SUMENKOVA – Russia
2. Eva SANDERSEN – Denmark
3. Adalis MUNOZ – USA
4. Janna Dominique OLIVA – Philippines
5. YEOWON GWAK – Korea
6. Fatemeh SOTOUDEH – Iran
7. HAEUN JUNG – Korea
8. Alejandra Higueros – Guatemala
9. GULSENA KARAKUYULU – Turkey
10. Michelle LEE – Canada
Male over 17 years old Freestyle
1. NamHoon LEE – Korea
2. Andreas Bregnballe SØRENSEN – Denmark
3. Justin Kobe MACARIO – Philippines
4. Borna PECKO – Croatia
5. Darius VENERABLE – Philippines
6. Morteza ZENDEHDEL KOMISHANI – Iran
7. Aykut TASGIN – Turkey
8. ELIAN ORTEGA VELASQUEZ – Nicaragua
9. Kyusung YUN – Korea
10. João Miguel SANTOS – Portugal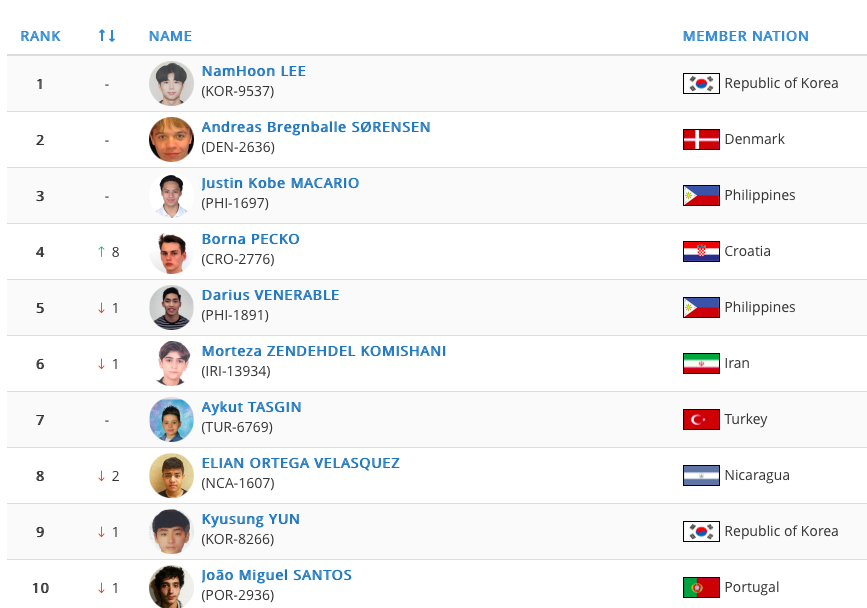 The activation of the ranking and the modality of recognized and freestyle, are factors and divisions that could debut in the Olympic Games with attractive shows, with which, at a logistical level, the mentioned list becomes a fundamental step.
"It is very satisfying for all of us at PATU to see our athletes excelling at such a high level. I want to congratulate all those who are already part of this ranking and remain firm in their quest to continue moving up in it. A special mention to the athletes who are part of the top 10 in male and female divisions, I'm referring of the United States, Guatemala, Canada, and Nicaragua. In our continental union we will continue working hard to provide our athletes with the necessary scenarios to continue growing," said Juan Manuel Lopez, PATU president.
This ranking will henceforth affect the events sanctioned by WT for the athletes who participate in them, which from now on gives the green light for the search of a better positioning in World Championships and for many MNAs, for the events that are part of the Olympic circuit.